Despite the Groundhog Day-esque lockdown, the first few months of 2021 have been anything but depressed at talkhealth. Now is a round-up of all of our brand-new peculiarities, so that you can utter the most of with our membership!
With healthcare being the hot topic this year, our screens have been filled with more medical story than ever. That's why the talkhealth team have been working extra hard to make sure that you, our members, keep locked with trustworthy, evidence-based healthcare advice.
To make sure that things stay interesting, we are constantly coming up with brand-new boasts for our programme. In case you've missed what's been going on, here is a round-up of brand-new things to do at talkhealth 😛 TAGEND Do in line for sleep-inducing goodies from Emma- The Sleep Company on the mysleep Patient Support Programme
Our 13 -week mysleep support programme is designed to improve your sleep hygiene, help you resolve your snoring and beat insomnia. Every week, you'll receive one or two downloadable PDFs containing easy-to-digest, practical message written by talkhealth and medical experts. We are elicited to announce that Emma The Sleep Companywill be supporting our program for the next 12 months. Over the next year, they will be giving you the opportunity to win ladens of sleep-inducing goodies. Make sure to sign up today !
Kick start the men's health discussion in their 2021 Men's Health Survey
Women are twice more likely to visit their GP than beings. This is, in-part because of the lack of male-only services, stigma and self-diagnosis that has become intrinsic to men's health. talkhealth is welcoming all those who identify as male to complete a short survey about their healthcare ordeals. Your input helps us to highlight any breaches in substantiate, information or the resources available to men's health.
To say thank you for completing the survey, you will have the chance to enter a booty select with one person triumphing a PS25 Amazon voucher. The inspect will close on May 31 st 2021. To complete the survey- click here!
Save your room at our brand-new LIVE expert clinic with British Skin Foundation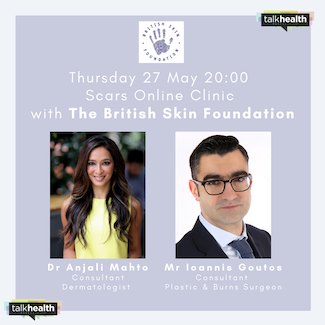 Everything needs a reinvention every once in a while! That's why we're launching our first live online clinic in collaboration with The British Skin Foundation.
On Thursday 27 May, Dr Anjali Mahto and Mr Ioannis Goutos are likely to be stumbling your screens to answer all of your disfigure related matter. To take part, complete the following two simple steps 😛 TAGEND
Step 1: Pop your scar queries into this survey.Step 2: Sign up to the webinar now! Our BSF experts will be answering your questions in a webinar at 20:00( BST) on Thursday 27 May.
Sign in to your talkhealth membership to save your seat – you won't want to miss this!
Pour a cuppa and participate our hectic bi-monthly coffee mornings
Fingers bridged we are making our way out of lockdown soon enough and our lives will start to get busier again. With that in knowledge, we have decided to meet multitude our chocolate mornings bi-monthly. They will comprise the same immense health topics and of course, a medical professional will join the last session of every month which gives you the chance to ask questions and pick up some professional, in-depth advice.
If you haven't signed up previously, the informal occurrences are a great way to meet like-minded parties whilst also learning about each others health gratuities and tricks.
Boil the kettle and sign up today! Enter the Cytoprotect Hair, Skin and Nails giveaway!
Are your "hairs-breadth", scalp and tacks scarcity a little lustre? Luckily, Cytoplan is giving away 20 utensils of their CytoProtect Hair, Skin& Nails to talkhealth members!
Give your appeal number a increase with a one-a-day multivitamin complex with 5-star patron revaluations, solely formulated by practitioners to support the health of hair, skin and nails.
Enter the giveaway before the 12 th May 2021 to be in with the chance of winning!
The post What's brand-new at talkhealth ? appeared first on talkhealth Blog.
Read more: talkhealthpartnership.com